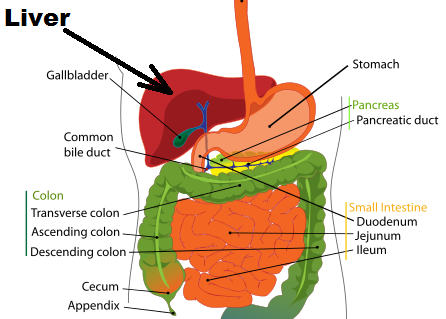 So you read the title and see the words "side effects" and I bet you are thinking that this is going to be about how spirulina is bad for your liver. Well this is actually the opposite. Spirulina and liver health go together in a good way and there are clinical studies to back this claim up. There are only a few reasons why it "might" be bad for your liver which I cover at the end.
Spirulina can help out your liver in a couple of different ways. It can reduce fatty liver (steatohepatitis), regulates liver enzymes (increases function), and can help with liver fibrosis.
Spirulina reduces Fatty Liver
Fatty Liver Disease is when you have to much fat in your liver. Your triglyceride level is too high. In order to treat this disease you need to lower it right? Spirulina can help with that. But first, f you are a heavy drinker (alcohol) then the first thing you need to do for treatment is to STOP the drinking. One of the 2 causes of Fatty Liver Disease is excessive alcohol consumption.
Once you have stopped then consider supplementing spirulina. There have been various animal studies that show spirulina is effective at reducing this disease but lets stick to the human studies.
One of these studies is published in the Journal of Medical Case Reports and measured ALT, triglyceride, and cholesterol levels before and after spirulina supplementation. Spirulina supplementation consisted of 4.5g/day and lasted for three months [1].
The results were great. The triglyceride levels decreased an average of 19% and LDL cholesterol (bad) decreased 16%. ALT levels in the blood were also measured and showed a decrease by an average of 41% (High ALT levels in the blood are a sign of liver damage) [1].
Spirulina can help decrease fatty liver even without any other diet changes. But of course if you better your diet the combined effects of this along with spirulina supplementation will be much greater.
Spirulina also helps regulate your liver enzymes, increasing liver function
The amount of liver enzymes correlates with the amount of liver damage you have somewhat. Having a higher number of enzymes in your blood usually means your liver is more damaged and doesn't function as good as it should.
Spirulina is shown to help regulate liver enzymes, which suggests it improves liver health. In a study performed on rats 0.33g/kg of spirulina per day showed a decrease in the liver enzymes SGOT by 33.42% and SGPT by 24.78% [2]. Thats a pretty significant decrease and indicates much less liver damage.
And yes there have been studies on humans as well. One of which showed that a spirulina supplentation of 1g/kg a day slowed down the increase of the liver enzymes: SGOT, SGPT, and ALP after having Cisplatin injections. Normally Cisplatin injections would have resulted in much higher enzyme levels [3].
In this same study it was also found that supplementing spirulina (1g/kg) and vitamin C (500mg/kg) together returned the enzyme levels back to normal after Cisplatin injections [3].
I will say though that this is an extremely high amount of spirulina to eat. At 1g/kg a 200 pound person would have to eat 90.7 grams of spirulina! Thats a lot and not very realistic for most people's diets.
Besides this Spirulina also helps with liver fibrosis
Liver fibrosis is when your liver becomes covered in scar tissue. It occurs in a lot of chronic liver diseases and can be very harmful. One treatment for this condition is to inhibit the increase of hepatic stellate cell (HSC) and to speed up the life cycle of these cells so that they die off faster.
And spirulina is shown to do exactly this. This is believed to be due to spirulina's strong antioxidant properties.
In one study the effects of both spirulina and chlorella extracts on live human cancer cells were studied. Both spirulina and chlorella decreased the cell growth rates of HSC but spirulina inhibited the cells more due to its higher antioxidant content [4]. It did not completely stop HSC growth but it did slow it down which in turn should slow down fibrosis.
Why spirulina COULD be bad for your liver
This is probably what you have all been waiting for. Is it bad at all for your liver. The answer is potentially and this is for 2 reasons.
First, spirulina absorbs heavy metals easily from its environment. If you consume spirulina that has high heavy metal content this can be VERY hard on your liver. As it would be working harder than normal to remove these toxins.
However, the fix for this is simple. JUST BUY FROM A CREDIBLE QUALITY SOURCE! There are plenty of spirulina products out there that are clean and are regularly tested for heavy metal content.
==> Click Here to see high quality products that I have reviewed <==
The second reason why spirulina could be bad is due to the fact that it contains microcystins, which are groups of amino acids and can be toxic according to Purdue University if you take TOO MUCH. Scientists have not yet figured out a specific limit as to how much microcrystins are too much and it is widely unregulated.
There are a couple states that regulate spirulina's microcrystin content before sale however the majority don't. For this reason I am led to believe that it is probably not that concerning, but I could be wrong. We will just have to wait and see what new scientific results come out on this matter.
Sources
1)Ferreira-Hermosillo A, Torres-Duran PV, Juarez-Oropeza MA Hepatoprotective effects of Spirulina maxima in patients with non-alcoholic fatty liver disease: a case series . J Med Case Rep. (2010)
2) Jarouliya U, et al Alleviation of metabolic abnormalities induced by excessive fructose administration in Wistar rats by Spirulina maxima . Indian J Med Res. (2012)
3) Bhattacharyya S, Mehta P The hepatoprotective potential of Spirulina and vitamin C supplemention in cisplatin toxicity . Food Funct. (2012)
4) Wu LC, Ho JA, Shieh MC, Lu IW. Antioxidant and antiproliferative activities of Spirulina and Chlorella water extracts. J Agric Food Chem. (2005)