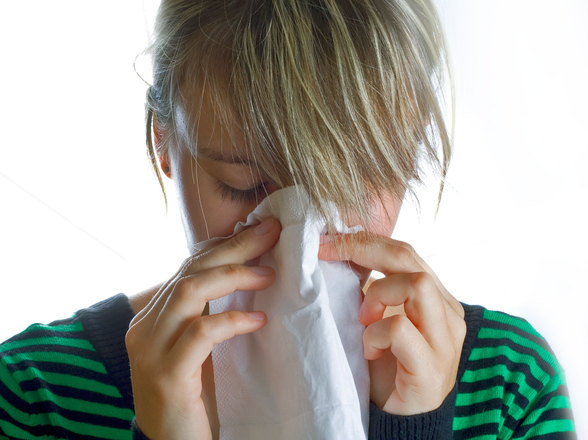 No one wants to suffer from allergies. And what better way then to stop allergies naturally. Have you ever heard of taking spirulina for allergies? Well if you haven't then pay attention.
There are a lot of different reasons that you could be experiencing allergies. These reasons are mostly due to your immune systems response to the allergens, not the allergens themselves.
One of the most common forms of allergies is that of Allergic rhinitis, which is an allergic reaction that happens when the immune system overreacts to breathing in substances (pollen, etc). Allergic rhinitis is common world wide and is not very well controlled.
Some of the common symptoms that you may have if you suffer from Allergic rhinitis include stuffy or runny nose, sneezing, itchy or watery eyes, swollen eyelids, itchy throat/mouth/face, sore throat, headaches, and the list goes on.
There are medications out there that control this allergic reaction, but having to take them continuously worries people due to potential side effects. So don't bother with the synthetic medications anymore.
Spirulina is proven to greatly reduce Allergic rhinitis
This has been proven in several studies.
One of which is available to view in the US National Library of MedicineNational Institutes of Health. In this study the subjects who supplemented spirulina for a period of time saw significant reduction in allergic reactions when compared to a placebo group. Nasal discharge, sneezing, nasal congestion and itching were all reduced during supplementation [1].
The exact reason that spirulina prevents and helps stop the effects of Allergic rhinitis is unknown. But according to the University of Maryland Medical Center, spirulina inhibits histamine being released in the body [2]. And histimine is known to lead to symptoms of Alergic rhinitis.
Interleukin-6 Imbalance? Spirulina can help
Interleukin-6 is an immune protein that is the common cause of many immune system diseases. If your body's Interleukin-6 production is out of wack, this throws off your immune system which in turn might be the cause of your allergies.
Spirulina is shown to reduce  Interleukin-6 production. This helps balance out the immune system allowing it to react how its supposed to.
Spirulina also has powerful antioxidants
Antioxidants are extremely important for a healthy immune system. When your body's immune system is actively fighting infection its phagocytic cells produce reactive oxygen. And this extra reactive oxygen going around can be harmful and damaging for a number of reasons. One of the most important being that it can damage the cell to cell communication which is necessary for proper immune system function.
Spirulina has more than one antioxidant, but its most powerful is Phycocyanin. Besides being an antioxidant, Phycocyanin is also anti-inflammatory and neuroprotective.
Spirulina works, and you should try it
There is science to back it up and a lot of people who swear by it for relieving them of allergies. Heres a few spirulina customer reviews I came across on Amazon that show this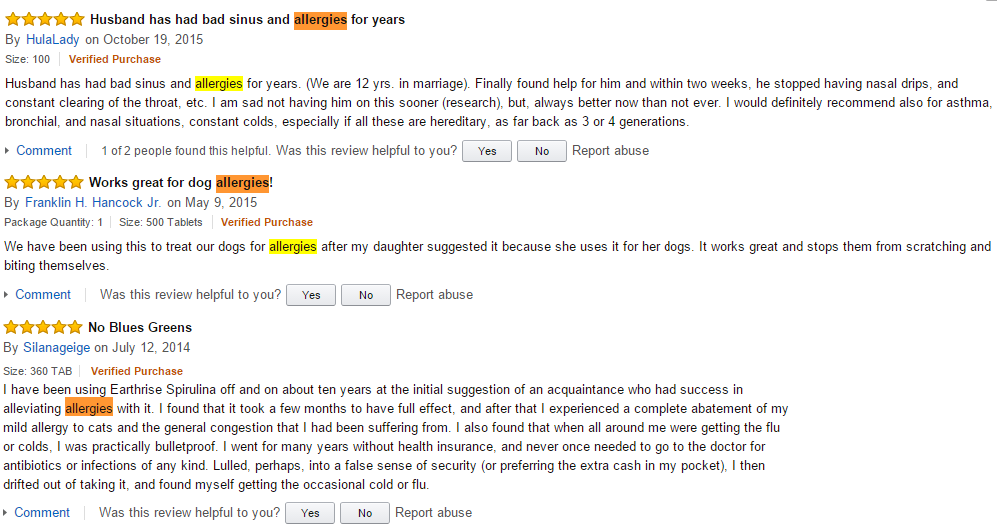 And as you can see, the second review is about how spirulina for dogs and how it helped with allergies.
If you have seasonal or perennial allergies, or even food allergies and you haven't tried spirulina then I suggest you do. Its not just your allergies that it will be helping with either. There are numerous other health benefits to supplementing spirulina, some of which can be found in the menu at the top of this page.
If you are looking for quality spirulina that isn't too expensive then check out these products that I have reviewed.
Click below on what you are looking for:
1) The effects of spirulina on allergic rhinitis. Eur Arch Otorhinolaryngol. 2008 Oct;265(10):1219-23. doi: 10.1007/s00405-008-0642-8. Epub 2008 Mar 15.
2) Allergic rhinitis. University of Maryland Medical Center. 2015 Aug.